Software Interface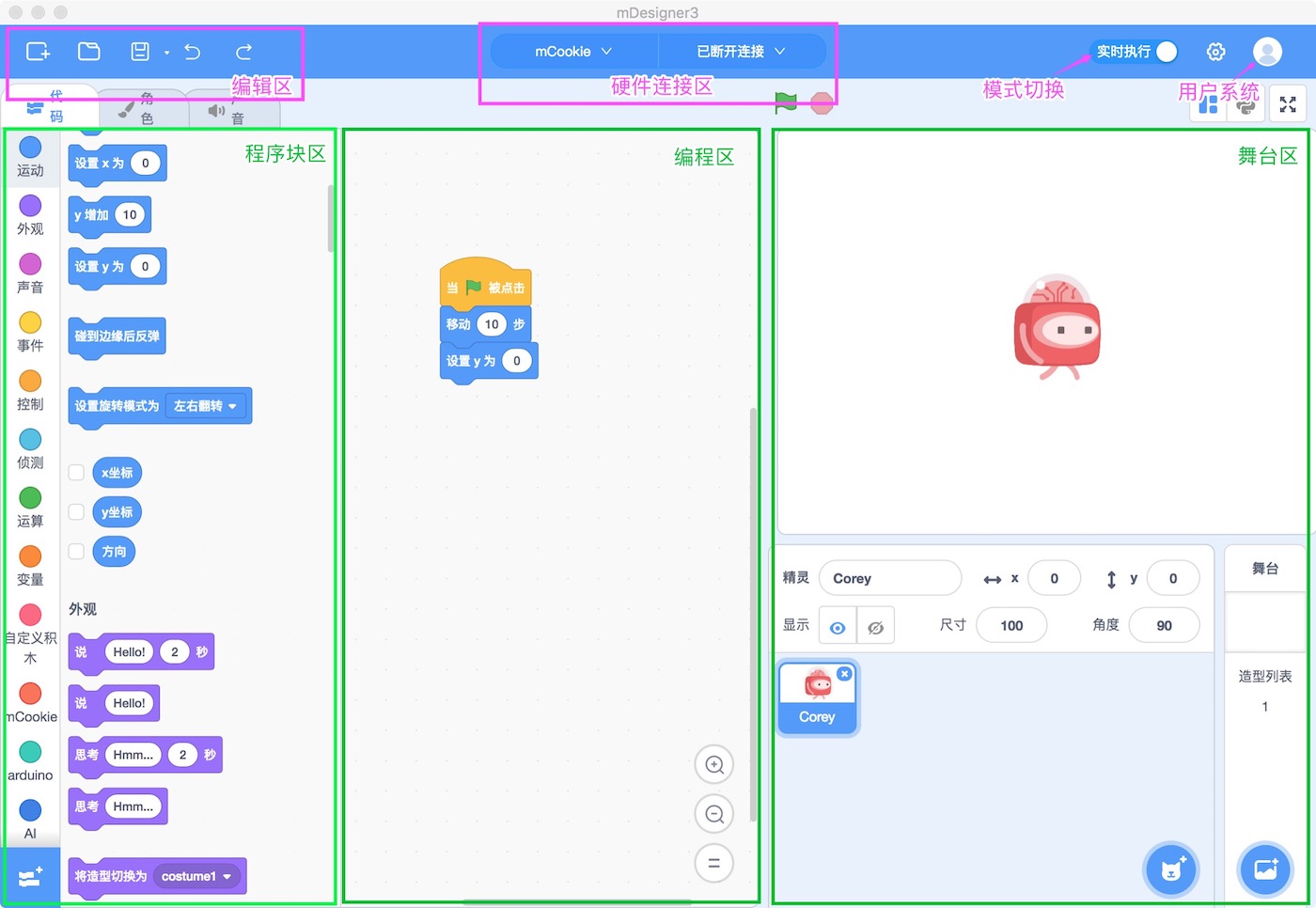 Connection tool:Select different products for hardware connection and flash the firmware for real-time execution (Online mode).

File tool:Open new file, save file and import previous file on the top left file menu bar.

Switching mode:Switch between Online mode and Offline mode.

User account:Log in to your personal mDesigner 3 account, and you can publish or edit your projects in our mDesigner cloud drive.

Palettes and Panes:Provide the Microduino "drag-and-drop" code blocks in different sessions which can do interaction between Scratch based program and the hardware.

Script area:Drag and drop the Microduino code blocks here to program your kits!

Stage:Show different features of the character and background on the stage.
---
Connect hardware and burn firmware
1. Select Kit: Choose the related kit to do Scratch programming. (mCookie for 102, 202, 302, Itty Bitty City and Mix Kits; IBB for Itty Bitty Buggy.)
2. Connect to the hardware: Choose the serial port. (for MAC: /dev/tty.SLAB_USBtoUART for USB connection, /dev/tty.Bluetooth-incoming-Port for Bluetooth connection; for Windows, Bluetooth connection is not supported.)

3. Flash firmware: When the hardware is connected, mDesigner system will check the Firmware status, and change to "Firmware required". Click "Flash firmware" to flash the firmware corresponding to the selected kit. (The status should change to "Connected" at the end.)
---
Registration and login
Login: Click on the profile icon on the top right corner, and the login window will pop up. If you have an account, enter the email and the password to login.

Registration: If you have not opened your mDesigner account yet, press the register button at the bottom right corner of the login pop up window to register an account. Enter your information, and you will receive a verification code in your email shortly. Use the verification email to set your password and complete the registration.

Note: The Chinese server and the international server are using different account systems. Please select the corresponding server to register/login according to your region. You can select the server at the bottom of the login
---
mCloud
After your mDesigner account is setup, you can create and save your projects in the Microduino's cloud drive.